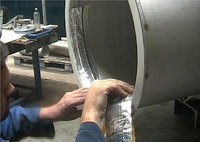 When the undersides of welds are ragged and uneven, they often need grinding to smooth them out. This costs labour time and money for grinding materials.
The use of Argweld® fiberglass Backing Tape® can save these costs by leaving a smooth fully penetrating, clean weld that needs no further work.
Weld Purging Experts Huntingdon Fusion Techniques HFT® have a range of four Backing Tapes® to support all weld beads made with welding currents, from 80 amps, up to as high as 600 amps
"Weld Backing Tape®" is a glass fibre weld backing system that supports the heavy, molten weld metal, allowing it to solidify before it could fall away from the joint.
Furthermore, the tape traps the inert gas from the tig/gtaw weld torch effectively providing a back purge facility.
HFT manufactures four grades of Weld Backing Tape® for use up to 80, 160, 240 or 600 Amps which covers the widest range of welding currents for very thin to very thick materials, that can be welding with a single pass.
Each tape comprises a 3-inch (75-mm) wide aluminium adhesive backing strip, in the centre of which is a 1-inch (25-mm) wide band of woven glass fibre matting running down the centre. The glass fibre matting has differing thicknesses to match the welding current in use.
Once the tape is positioned with the glass fibre matting under the centre of the weld joint, the welders can start their arc. The welding torch argon flow has plenty of space to move between the pores of the matting, which allows the welding arc to stabilise and start forming the weld root.
Using Backing Tape®, it is possible to weld with MIG, (GMAW) TIG (GTAW) or Plasma (PAW) techniques for the joining of all weldable metals without change to the chemistry or metallurgy of the weld.