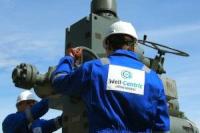 The three-year deal will see Dyce-based Well-Centric provide offshore wellhead maintenance services, as well as workshop-based wellhead repair and refurbishment, for Apache's UK assets.
This contract builds on a successful 10-year relationship between the service provider and Apache and continues Well-Centric's confident growth plan through the industry downturn.
Well-Centric Chief Executive Officer Chris Mawtus said the steady expansion of the business demonstrated clear industry demand for Well-Centric's expertise and service range.
He said: "We have remained totally focused on providing operators with the essential integrity services they need to keep their wells working, efficiently and for longer. Across the North Sea, and further afield, it's more important than ever that operators maintain, repair and care for their assets in a cost-effective manner – and they need a service partner they can trust to deliver exactly what they need, to the timescales they demand.
"From scheduled day-to-day maintenance and inspections, to management and certification of ageing assets, through to specialist repairs and creatively engineered solutions, Well-Centric brings our customers total wellhead servicing."