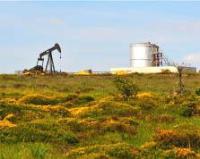 LGO Energy announce that well GY-667, the fourth well of the current 30 well development programme, has been successfully recompleted in the upper C-sand reservoir. The well is currently flowing under its own pressure at a stabilized rate of 350 barrels of oil per day (bopd) of 42 degree API oil, without water or sand. An interval of 186 feet of net pay was perforated using tubing conveyed guns and a calculated initial open-hole flow rate of 1,030 bopd was observed. This rate represents the best well drilled and completed to date from the current development programme.
The upper C-sand (formally termed the Gros Morne) in GY-667 contains a individual sandstone pay unit approximately 130 feet thick which was considered to offer the best production potential in the well.
After flowing the well for approximately 24 hours at rates up to 580 bopd through a 10/32-inch choke at a well head flowing pressure of over 600 psi, the choke size was reduced to 8/32-inch with the well now flowing at a steady rate of 350 bopd of clean dry oil at a well head flowing pressure of 540 psi.