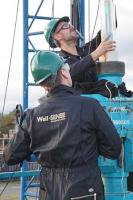 Aberdeen-based downhole technology specialist, Well-SENSE Technology Ltd has announced a major breakthrough in the progression of its ground-breaking FibreLine Intervention (FLI) technology.
After a period of intense development, the system has recently exceeded expectations whilst undergoing rigorous testing and trials. It's been proven that fibre optics can be repeatedly and reliably retrofitted into a well using the FLI system.
An integral part of the testing was to perform Distributed Acoustic Sensing (DAS) surveys across the installed fibre optic line. This demonstrates that the acquisition of quality data from oil and gas wells can be performed in a very cost effective and low risk manner.
FLI offers an entirely new approach to well intervention and combines several innovative concepts, from technologies out with the energy sector, in a single package. As a hugely simplified intervention method, it represents a radical advance in downhole tools for the industry massively reducing cost and risk.
Well-SENSE's co-founder and technology director, Dan Purkis says, "Achieving such positive initial results with FLI is a real milestone for Well-SENSE, and testament to our hard work and dedication in launching it to market."
"We are positive that the technology will offer vast benefits to operators. Not least because it's cost effective and disposable - allowing for it to be utilised on wells where other methods of installing fibre optics may have been deemed economically unviable. To realise the full benefits of FLI, collaboration with other technology providers will be key to its ongoing development – we're keen to ensure the best technology is implemented from the start," adds Purkis.
Colin Smith, Well-SENSE's chairman, says, "We are excited about progress the Well-SENSE team has made in the short time since the company's inception. We are confident that FLI will make a big impact on the industry - allowing operators to understand and accurately diagnose issues in their wells will inevitably lead to an increase in production, improvements in well integrity and reductions in operating costs. Given the current climate, it's never been more important for the industry to embrace developments like FLI, which can be rightly described as game changing."
The positive results mark the end of a successful year for the Well-SENSE. Earlier this year Dan was presented the Significant Contribution Award at the 2016 Offshore Achievement Awards in recognition of his influence on the oil and gas industry – FLI was also shortlisted in the Emerging Technology category. Additionally, Dan was bestowed the Innovative Thinker Award at the 2016 World Oil Awards in Houston in October.