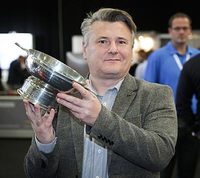 Well-SENSE Technology has been awarded the Intervention and Coiled Tubing Association (ICoTA) Europe's Innovation Award in recognition of its innovative FibreLine Intervention (FLI) technology.
The award was presented on Wednesday, 15 November, the first day of the SPE ICoTA European Well Intervention Conference at the AECC, Aberdeen.
FLI presents an entirely new approach to well intervention for data profiling, using a bare, disposable fibre optic line for distributed temperature and acoustic sensing. The fibre is dropped through the vertical section of a well using an innovative deployment tool and delivers real-time measurements, over its full length, for an extended period of time.
FLI differs from traditional fibre line measurement devices as it is run into the well as bare line instead of encased within an intervention media such as wireline. Once it is run and has delivered the necessary data it is disposed of into the well. FLI is the world's only disposable fibre line intervention method on the market and provides huge time, space and cost savings. It can be deployed within a couple of hours of arriving on site and removes the need for complicated rig up and rig down procedures, the footprint taken up by spools of wireline and lubricators, additional personnel and associated non-productive time.
Of the award win, Well-SENSE CEO Craig Feherty, says, "This award is one of the most prestigious accolades in the industry and we are thrilled that our technology has been recognised by ICoTA as a revolutionary innovation."
"The benefits of FLI are vast but still growing, which is why it's such a significant and disruptive technology. It offers distributed temperature, acoustic and pressure measurements to be captured over the length of a well and in future, we will offer additional features such as single point measurements including optical data, as well as improved access to deviated and horizontal wells. Being small and portable also makes FLI far more practical and cost effective, particularly for use in remote locations. The cost savings over traditional wireline data logging are tremendous," adds Feherty.
Well-SENSE, alongside ClearWELL Oilfield Solutions and Well-Centric, is part of FrontRow Energy Technology Group Limited. FrontRow is a young and dynamic upstream oil and gas services group delivering advanced industry solutions, designed to provide dramatic cost reduction and enhanced performance.