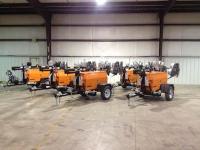 Wellsite Rental Services has added long-run diesel light towers to its rental equipment line.
The light towers supply portable lighting when electricity is not available or convenient, especially during night hours.
While burning less fuel than other similar products, each unit can reach 225 hours of operation on a single tank of fuel, reducing fuel costs and labor expenses.
The units use LED lighting technology that maintains a lifespan of 50,000 hours. This technology provides a more efficient use of light energy with lower power consumption.