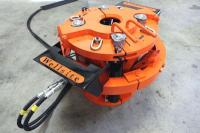 Wellsite Rental Services has added flush mounted slips to its rental product line.
The flush mounted slips are purposed for tripping drill pipe and maintain a self-locking design that does not require the use of a tether while holding backup torque, eliminating the need for backup tools.
The tool maintains a safety factor of 2.25 X and leads the industry with state-of-the-art safety features. While all parts are visible in operation, the flush mounted slips hold down force so that no backup tong or an operator are required. It also reduces the manpower typically needed and is fully automated to promote efficiency, reduce pinch points and minimize personnel injuries.
The flush mounted slip holds the ability to drill with the tool in rotary, and its hinged design allows for easy installation and removal should the tool need to be removed from the rotary. Many of the slips and die combinations have the ability to catch multiple sizes of drill pipe with one set of dies. If a set of dies need to be changed out, the process takes approximately 30-45 minutes.