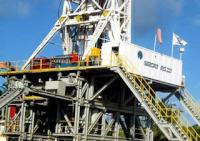 Wentworth Resources has completed drilling operations at the MB-4 development well in the Mnazi Bay Concession, southern Tanzania.
The MB-4 development well, drilled to a total depth of 2,788 meters (True Vertical Depth Sub Sea) and is located approximately 800 meters from the MB-2 and MB-3 wells in the Mnazi Bay gas field, has crossed Miocene gas reservoirs with net pay of 24 meters (Upper Mnazi Bay) and 43 meters (Lower Mnazi Bay) respectively, both ranked among the best of the five wells drilled in this field to date. Pressure measurements have confirmed the lateral and the vertical connectivity of each reservoir.
Within this well two reservoirs have been selectively tested at different two-hour stabilised flows with the Upper Mnazi Bay achieving a constrained flow-rate of up to 18.8 mmscf/day and the Lower Mnazi Bay of up to 22.2 mmscf/day.