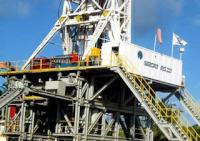 Wentworth provides an update of exploration drilling operations in the Rovuma Onshore Concession in northern Mozambique.
The Tembo-1 exploration well has reached a depth of approximately 2,965 meters in Cretaceous age rocks. The well is programmed to be drilled to the Jurassic at a total depth of 4,397 meters (4,250 meters True Vertical Depth Sub Sea). Drilling operations are expected to continue through the month of November. It is important to note that, as this is a frontier well, it is difficult to predict how long drilling operations will take. We remain a tight hole on Tembo-1 and still plan to announce results once drilling operations have been fully completed.
Following completion of drilling the Tembo-1 exploration well, the drilling rig will be mobilized to the northern section of the Onshore Rovuma Block and commence drilling a second exploration well, Kifaru-1.