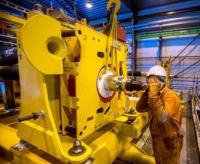 Westcon will, together with WellConnection, maintain parts of Statoil's subsea equipment at all base locations in Norway. The framework agreement is yet another milestone for the successful subsea commitment at Westcon.
The scope of the agreement is maintenance and overhaul of defined parts of the subsea equipment Statoil has at its bases, in addition to an option for extension of the scope both onshore and offshore. The framework agreement has immediate start-up and has a duration of 2 years with an option to extension for up to 6 additional years. Westcon will perform the maintenance at all bases, with exception for Kristiansund and Mongstad, where WellConnection will support the work.
"This is fantastic. To enter into such a significant agreement with Statoil is not only a recognition of the expertise that Westcon has built up and the results that have been delivered over many years, but also gives a predictability in a demanding market condition. The cooperation agreement with WellConnection and the combined expertise we represent, has been a success factor. We now look forward to working together with Statoil and further develop our subsea focus area," says Steinar Matre, subsea manager at Westcon.
Previously Westcon has manufactured advanced subsea equipment for Statoil for use on multiple subsea developments. The new maintenance agreement also follows a series of subsea projects Westcon has completed since the subsea production and maintenance was introduced as a business area a little more than two years ago. Through projects for customers such as Subsea 7, OneSubsea, Kongsberg Oil & Gas Technologies, EMAS AMC and Technip, Westcon has over this period produced subsea modules to major field developments worldwide.
"This is a challenging market to enter – especially in these times, but there is little doubt that we have found our place. We have succeeded by hard work and providing top expertise, HSE standards and systems for quality assurance. The successful proof is that the customers keep coming back," Matre adds.
Also Westcon Power & Automation and Westcon Løfteteknikk, both parts of Westcon Group, have entered into a number of contracts with Statoil within the past year.