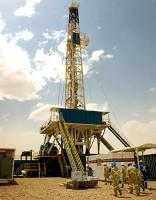 WesternZagros Resources Ltd. has successfully completed the workover of the Sarqala-1 well in the Garmian Block in the Kurdistan Region of Iraq. The purpose of the workover was to install larger tubing to replace the subsurface safety valve and increase the flow capacity of the well. The Company tested the well at rates of up to 11,500 barrels per day (bbl/d) of 40 degree API oil from the Jeribe/Upper Dhiban reservoir.
"Our expectations were that the workover would result in an increased production capacity in the range of 8,000 to 10,000 bbl/d, so we are pleased with this strong test result, which was accomplished without any stimulation of the reservoir," said Simon Hatfield, WesternZagros's Chief Executive Officer.
The Sarqala-1 well previously produced over one million barrels of light oil at an average flow rate of 5,000 bbl/d of oil during an extended well test in 2011 and 2012. The new flow rate of 11,500 bbl/d was reached after two days of flowing and stabilizing the well at progressively bigger choke sizes prior to the final flow.