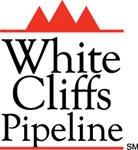 White Cliffs Pipeline, L.L.C. (WCPL) a partially owned subsidiary of Rose Rock Midstream, is considering a new pipeline from the Denver-Julesburg Basin (DJ Basin) to the Cushing, OK hub.
This new pipeline would possibly have multiple origin points in the DJ Basin and handle multiple grades of crude oil.
WCPL hereby announces a non-binding open season that will provide an opportunity for shippers to express their interest in making a long-term commitment toward further expansion of the WCPL system.