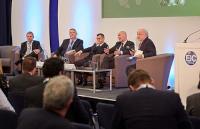 Engineered steelwork specialist William Hare Group is sponsoring the first ever edition of EIC Connect Oil & Gas USA. Taking place in Houston on 3 October 2017, the event is designed to encourage UK companies to invest in the US oil and gas industry through a day of conference sessions, operator and contractor briefings and an exhibition.
The event will bring together over 20 major energy firms operating in North America including Bechtel, BP and Shell with UK-based supply chain companies to explore how they can work together on energy projects in the region.
Conference sessions will update delegates on the challenges and opportunities specific to the North American oil and gas industry, while operators and contractors will talk about their developments and the goods and services these require.
The event will also provide time and space for private one-to-one meetings between leading North American energy companies and UK suppliers to discuss local project requirements and potential partnerships.
An exhibition will showcase the tools and expertise of up to 20 UK companies to visiting procurement specialists looking for products and services which can add value to their organisations' projects and programs.
Hare have enjoyed engagement with the Houston EPC market for approaching 50 years, initially supporting major international projects being engineered and procured in Houston.
Recently William Hare have supported major onshore oil and gas, and petrochemical projects by the implementation of a high value delivery strategy that harnesses their in-house capabilities as an integrated engineering, project management and high integrity structural fabrication contractor.
To find out more about EIC Connect Oil & Gas USA 2017 and book your place, visit: www.the-eic.com/EICConnect/OilGasUSA.aspx