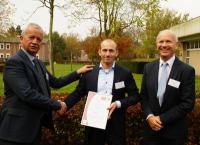 Wind Energy Link (WELink) has become the first in their field to receive the AMC ISO 55 001 quality certificate of product approval.
The quality certificate was awarded for the WELink asset management information system, during the 14th Asset Management Control seminar at the airbase Woensdrecht on Thursday. WELink attended the seminar with three other organizations, (Avans+, Elexis and Thales) as part of a pilot assessment process by Bureau Veritas Certification and Asset Management Control Centre.
"This external validation demonstrates that we are leading the standards in the field of asset management and differentiating on a global scale" said Ron van der Laan, regional director Peterson and director Wind Energy Link B.V.