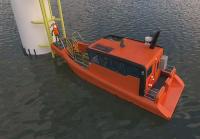 Tuco Marine Group of Denmark has inked a new order for their 11-metre Wind Farm Service Boat from the ProZero series of Fast Rescue Boats, Daughter Crafts and Workboats.
The new order is from an undisclosed major, company in the European offshore market. Tuco Marines' 11-m Wind Farm Service Boat is a vessel that have been designed specifically to the far offshore Wind farm market as a Daughter Craft to the SOVs that are to enter this market during the coming seasons.
The ProZero 11-m Wind Farm Service Boat is a dedicated service boat and crew transfer vessel, for offshore wind farms. The boat has been developed in close collaboration with experts in wind farm services and the main market charterers, who have been deeply involved in the developments, to meet the latest requirements of the park operator's.
The 11-m boat is constructed to be lifted on and off larger mother vessels using a single point davit system and the ProZero 11-m Wind Farm Service Boat can be outfitted with hook systems of the owner's choice.
The vessels is constructed from carbon fibre composites, considering to the industry's focus on weight and  fuel efficiency, which is obtained by less operational power needed. The vessel's features twin waterjet installation fitted to inboard diesel engines, and operates at a service speed above 22 knots, transporting eight passengers and 500 kilograms of cargo on the foredeck.