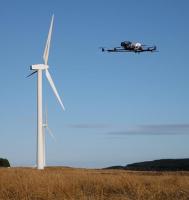 Cyberhawk Innovations, provider of Unmanned Aerial Vehicle (UAV) inspection and survey, and a pioneer in the conversion of drone-captured data into powerful asset information, has secured significant works with FTSE 100 listed SSE Plc, one of the UK's largest energy companies.
The campaign, which began in May this year, will see Cyberhawk carry out close visual inspections of more than 600 blades using UAVs. Work will be completed across wind turbines at various SSE windfarms throughout Scotland, Northern Ireland and Republic of Ireland.
Cyberhawk's drone inspection solution captures images of the entire blade surface of every turbine, allowing the company's highly experienced wind engineers to accurately locate, size and categorise any defects. This detailed information is delivered through Cyberhawk's cloud based asset management software, iHawk. This powerful software, already being used on other SSE projects, allows SSE to easily understand the condition of all assets and provides intuitive access to all the high definition images, engineering commentary and defect severity. This information will allow SSE to be better informed of the priority for maintenance work during 2016 and 2017.
Traditionally, inspections would be carried out using rope access technicians however this technique involves a greater number of man hours required on site and increased working at height. UAV technology not only mitigates these risks, but also means reduced turbine downtime for the client and therefore less lost production. One of Cyberhawk's key differentiators is the ability to inspect three to five turbines per day, compared with rope access which will typically only inspect one.
Philip Buchan, commercial director at Cyberhawk says, "Throughout 2015, Cyberhawk completed a significant number of turbine inspections for SSE to support meeting its inspection targets. Successfully securing this project for 2016 reinforces our relationship with SSE, further underpinning our reputation and capabilities within the wind sector. Moreover, it consolidates SSE's confidence in our ability to successfully deliver cost effective and efficient projects and in our iHawk asset management platform."
Kevin Shanks, mechanical engineer at SSE, says, "SSE has been working with Cyberhawk since 2009, watching the technology and methodology develop into the proven inspection technique that it is today. We continue to watch intently for future developments.
"SSE has also been involved in the development of iHawk, which has the potential to change methods of asset management and could lead to significant opportunities within the wind inspection and maintenance sector."