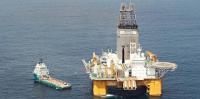 eDrilling reports that crews from Odfjell and Halliburton joined Wintershall in preparing for drilling on the Maria field on the Norwegian Continental Shelf. With "establishing best HSE and efficiency culture" as the theme throughout the training, Wintershall focused on preparing for Maria specific challenges and uniqueness.
The crews are drilling the 17 1/2 inch, 12 1/4 inch and 8 1/2 inch sections in simulator. Hole cleaning with high ROP and associated challenges, and Well Control are the key areas for the training scenarios.
Investments in the Maria development are estimated at around 15.3 billion NOK (100%), including development drilling. Recoverable reserves on the field are estimated around 180 million barrels of oil equivalent (boe), of which the majority is oil. The planned production startup for Maria is end 2018, and the estimated production period is 23 years.
The Maria field is located approximately 20 kilometres east of the Kristin field and about 45 kilometres south of the Heidrun field in the Halten Terrace in the Norwegian Sea. Wintershall Norge is the operator of the license with a 50% share. Petoro has a 30% share and Centrica Resources (Norge) owns the remaining 20%.
Wintershall Holding GmbH, based in Kassel, Germany, is a wholly owned subsidiary of BASF in Ludwigshafen. The company has been active in the extraction of natural resources for 120 years, and in the exploration and production of crude oil and natural gas for over 80 years.