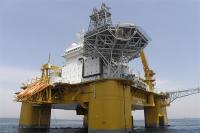 Wintershall has awarded a major rig contract for the Maria Field to Odfjell Drilling. The contract for the Deepsea Stavanger semi-submersible rig is worth approximately USD 175 million (NOK 1.5 billion) based on 574 budgeted days. It has been assigned following a thorough international selection process and in alignment with the other Maria license partners, Petoro and Centrica.
Under the terms of the contract, the Deepsea Stavanger unit will drill six wells on the Maria Field starting from April 2017. In addition, the contract has options for additional wells. The award is the latest contract in the execution of the Maria development, further strengthening Wintershall's position as a key operator in the subsea arena.
"In a difficult market environment, Wintershall is pushing ahead with our first operated development in Norway. Maria is a major subsea development on the Norwegian Continental Shelf and this is only the second major rig contract signed in 2015. With the procurement of the Deepsea Stavanger we demonstrating that we are still prepared to invest in this core region even in a difficult oil price environment," said Hugo Dijkgraaf, Wintershall Maria Project Director.