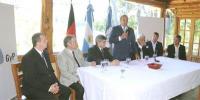 Yesterday (January 7, 2014), Ing. Guillermo Coco, President of Gas y Petróleo del Neuquén S.A., Martin Bachmann, Member of the Board of Executive Directors of Wintershall Holding GmbH and responsible for Exploration & Production and Gustavo Albrecht, Managing Director of Wintershall Energía S.A., met in Villa La Angostura with the Governor of the Neuquén Province, Dr. Jorge Sapag, to receive the decree that ratifies the commercial contract and a joint venture agreement between Wintershall and Gas y Petróleo del Neuquén (GyP) for the exploration and a possible development of the hydrocarbon block Aguada Federal.
The block comprises 97 km2 of the prospective Vaca Muerta shale, located in the Añelo department in the east of Neuquén province. Wintershall acquires a 50% participation interest from GyP in the Aguada Federal block and assumes operatorship. In September 2013, both parties had already signed a letter of intent concerning this transaction.
During the exploration phase and in case of a further development, GyP will retain ownership of the exploration permit and eventual exploitation concession, while Wintershall will have a 50% participation in the joint venture agreement and will be the operator of the area.