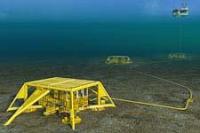 Wintershall has taken over the operatorship of the subsea oil and gas field Vega from Statoil. Vega is the BASF subsidiary's first operated subsea tie-in field in Norway. With this transfer Wintershall now operates two production fields on the Norwegian Continental Shelf, Brage and Vega.
The takeover of the Vega operatorship is part of the transaction with Statoil that was completed in December 2014. By the acquisition of additional shares in the producing fields Vega and the nearby Gjøa Wintershall firmly established itself as one of the large producers on the Norwegian Continental Shelf. The company is currently producing more than 60,000 barrels of oil equivalent per day in Norway.
With the further purchase of shares in the Aasta Hansteen gas development and the Polarled pipeline project as part of the same deal, Wintershall strengthened its strategic partnership with Statoil and reaffirmed its long term commitment to Norway.