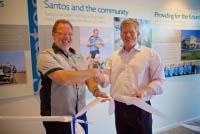 Santos as operator of the Southern Amadeus Joint Venture advises that wireline logging in the Mt Kitty exploration well has been successfully completed.
Sidewall cores confirmed that the Heavitree Quartzite is absent in the well and that the previously reported gas flows were from granitic basement. Raw formation image logs indicate that basement is extensively fractured. This is typical of many structures in the Amadeus Basin, and generally enhances productivity.
The well is currently being plugged and suspended. Full evaluation of well results and integration with seismic may result in a decision to drill an oriented sidetrack in future, aiming to maximize intersection with observed fracturing.