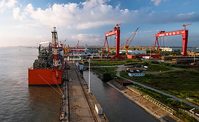 Wison Offshore & Marine has announced that it has signed a memorandum with KBR, Inc. for cooperation on a 1.5 MPTA Floating LNG liquefaction unit in Southeast Asia.
Both parties will associate and collaborate with each other on a mutually exclusive basis for the FLNG project of Kumul Petroleum Holdings Limited from Papua New Guinea.
Wison has proven track record in delivery of the world's first barge-based FLNG. In September 2016, Wison successfully completed its performance test at the Wison yard in Nantong, China. This marked for the first time in history LNG had been produced onboard a floating facility. It was also the world's first gas trial for a floating liquefaction unit before sail-out.
As a global provider of differentiated professional services and technologies, KBR has demonstrated strong expertise across onshore LNG and FLNG solutions, existing LNG plant and receiving terminal expansions and LNG regasification and distribution solutions. In August 2017, KBR announced it was awarded a contract by Kumul Petroleum Holdings Limited for the conceptual development and feasibility study services for an energy hub in the Kikori region of the Gulf Province of Papua New Guinea.
Ying CUI, CEO of Wison Offshore & Marine says, "We're looking forward to a fruitful cooperation between Wison and KBR. We're confident that the combination of both parties' strengths will create the best value for our clients by providing them with more cost-effective and quality solutions to lower the overall investment of FLNG project."
Greg Conlon, KBR President, Asia Pacific says, "KBR is very pleased to be associated with Wison Offshore & Marine in developing a significant nation-building project for Papua New Guinea and looks forward to further strengthening our relationship with Wison."