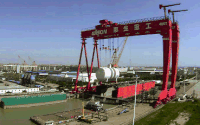 Wison Offshore & Marine announced the award of a contract for the delivery of a barge‐based floating LNG regasification unit from a 50/50 joint venture between EXMAR NV (Exmar) and Pacific Midstream Holding Corp, a fully owned affiliate of Pacific Rubiales Energy Corp. (PRE).
The regasification unit will be built at Wison Offshore & Marine's wholly‐owned and operated fabrication facility in Nantong, China, where Wison Offshore & Marine is presently in the process of fabricating the Caribbean FLNG project, also for EXMAR and PRE, which is currently on budget and on schedule for delivery.
Under the agreement for the regasification unit, Wison Offshore & Marine affiliates will be responsible for the turnkey engineering, procurement, construction, installation and commissioning (EPCIC) of the project with delivery anticipated for the fourth quarter of 2015.