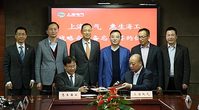 Wison Offshore & Marine has announced it has signed a Memorandum of Understanding (MOU) on strategic cooperation with Shanghai Electric Power Generation Group. Two parties will join their efforts in medium to large-scale floating LNG power generation barge, with regards to its product development, global marketing and technical services. Such collaboration aims to promote the commercialization of this new electrification solution while opening up a series of further cooperation in power sector between Wison and Shanghai Electric.
The strategic tie-up builds on Wison's unique experience and integration capability in floating LNG facilities combined with Shanghai Electric's leading-edge in core gas power equipment and EPC services for international power projects. Based on the Floating LNG Storage Regasification and Power Generation (FSRP) solution developed by Wison earlier on, both parties will join forces to build up capabilities throughout FSRP project life cycle from product development, marketing, project financing, facility construction, to operation and maintenance, with a view to accelerate commercialization of this innovative solution in global market. The parties will focus on developing medium large-scale FSRP, and study the application of Shanghai Electric's world class gas turbine technology and integrated generation set solution to the FSRPs, such that the product's economy and reliability can be further enhanced. While Wison already received Approval in Principle for its 50MW FSRP from Bureau Veritas in July, this strategic move signifies Wison has taken a solid step towards medium large scale FSRP development.
Cui Ying, CEO of Wison Offshore & Marine says, "Wison is greatly honoured to join hands with Shanghai Electric, a worldwide market leader to develop FSRP products. It's no doubt the complimentary strengths and resources of the two companies can facilitate our path forward in commercializing floating LNG power, which in turn will solidify a leading position in this emerging market."
"Cooperation with Wison on floating LNG power station coincides with our effort to accelerate developing gas turbine business. Such innovative concept is a new attempt for marine application of heavy duty gas turbines. I very much look forward to the 'win-win' cooperation on international markets." comments Cao Min, President of Shanghai Electric Power Generation Group on the collaboration with Wison.