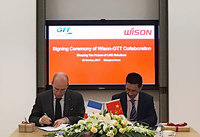 Wison Offshore & Marine has announced it has signed a strategic cooperation agreement with GTT, which designs and engineers containment systems for maritime transportation and storage of LNG.
Pursuant to the agreement, both parties will conduct a cooperation work on various LNG projects, such as LNG Carrier, LNG FSRU (Floating Storage Regasification Units), FLNG (Floating LNG unit) or other LNG floating unit with GTT membrane tanks. The cooperation with GTT will help to strengthen Wison's position in offering clients floating LNG products in full range of capacities.
As a pioneer in floating LNG industry, Wison is first in the world to construct barge-based FLNG and FSRU, both executed at its own world-class yard facility in China. The company has developed a full spectrum of products including FLNG, LNG-Distributor, LNGC, FSRU, FSRP, bunkering vessel, to name a few. The cooperative work will further enhance Wison's capability to design and build facilities that integrate GTT technology and engage GTT licensed outfitters. By furthering streamlining Wison's value-added offering using GTT technologies, two companies will conduct dedicated workshops to develop more cost-competitive and reliable product concepts for the industry.
Philippe Berterottière, Chairman and CEO of GTT, comments, "We are pleased to be able to strengthen our partnership with Wison, a key player in the offshore LNG market. We will be able to offer together innovative and cost effective solutions in this area as well as other markets such as LNG as a fuel, bunkering and small scale shipping."
Regarding the cooperation agreement, Mr. Ying CUI, CEO of Wison Offshore & Marine says, "We're very glad to build up the mutually beneficial cooperation with GTT. By leveraging Wison's expertise in EPC project execution and GTT' leading technologies, we'll provide the LNG industry with more economical and tailor-made solutions to help clients achieve higher yield in their investment and unlock the market potential."