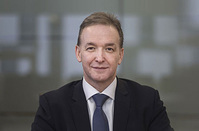 The fourteenth SCDI Annual Lecture was delivered to a capacity audience in Aberdeen by Robin Watson, Chief Executive, Wood.
At one of the most prestigious events in the North East's business calendar, Robin Watson's lecture address focused on the theme of "Embracing Disruption". He described how Wood, created in 2017 through the combination of Wood Group and Amec Foster Wheeler, is positioned to tackle the macro and generational disruptors facing us all, with greater geographical coverage, more service lines and a multi-sector customer base. Watson's views on the decarbonisation agenda, technology disruptors, shifting global power centres and new political forces and movements could be applied across industries.
At the same time, a GBP 20,000 investment by Wood in supporting the promotion of the STEM subjects (Science, Technology, Engineering and Maths) was unveiled as they were announced as a new Principal Partner of SCDI's Young Engineers & Science Clubs (YESC) Programme across Scotland.
SCDI Board Member and NE Committee Chair, Trevor Garlick OBE, comments, "We're delighted to have Robin Watson join us to deliver the fourteenth annual SCDI Lecture in Aberdeen. At a time of unprecedented global change and uncertainty, his insights from the helm of a major international business such as Wood on these challenges and how they play out across the World, is of significant interest to SCDI and its membership."
"SCDI is also delighted at Wood's commitment to support our Young Engineers & Science Clubs Programme. We have a shared passion to enlighten our young people about the opportunities that engineering, science education and careers can bring them," Garlick adds.
Robin Watson says, "It was an honour to address SCDI members in Aberdeen: Wood is proud to headquarter a global company employing 55,000 people across 60 countries in North East Scotland. We live in interesting times, and I was pleased to have the opportunity to share Wood's thoughts on how organisations must learn to embrace change, and plan for it rather than hope to avoid disruption."
"It is in looking to the future too that we have chosen to support SCDI's work with the Young Engineers and Science Clubs, promoting interest in STEM subjects among schoolchildren across Scotland. This is a cause close to our heart, and we hope to perhaps welcome some of those children to work with Wood one day in the future," concludes Watson.