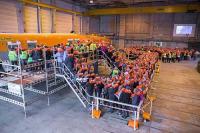 The first full scale boarding test of the world's largest lifeboat, PALFINGER MARINE's new flagship for the cruise industry, landed the company a new world record.
In 2015 PALFINGER MARINE won the impressive contract for delivery of 24 tenders, 12 lifeboats, 36 davits and six rescue boat stations to a series of cruise ships being built by STX France. The complete lifesaving package is now in production, and 20 April marked a huge milestone for the project: The crucial full scale boarding test of the new MPC 49 – the world's largest and PALFINGER MARINE's flagship lifeboat.
Measuring an impressive 15.5 metres in length and 5.5 metres in width, the highly innovative lifeboat has a capacity of massive 440 people. It offers more seats than a jumbo jet. However, in an emergency size does not matter if the cruise passengers cannot get aboard in time, and class society DNV GL has set the time limit to 10 minutes.
Tension was noticeable as 200 employees and 240 local volunteers, aged 15 to 80, gathered inside PALFINGER MARINE's fabrication hall at Seimsfoss, Norway. Failing the test would be a huge setback for the project.
To Factory Manager Arvid Skogseide's instructions, the test commenced. From an ad-hoc muster station, placed in exactly the same distance from the lifeboat as on a real cruise ship, the "passengers" moved orderly to the MPC 49, entered through the four entrances on two deck levels, and found their seating. The MPC 49 is the world's first lifeboat with seating on two decks.
"Overall, the boarding test proved a huge success for the project. We set a record time of five minutes and 21 seconds, well within the time limit", Global Products Director Arild Lokøy reports.
"Before testing we were quite convinced that we would make it on time, but I must admit it is a huge relief to actually have demonstrated it to DNV GL and STX! Now we look forward to delivering these high-end lifeboats to the customer, and hope they are satisfied with our new flagship", Lokøy adds.
MPC 49:
 

Length: 15 m.

 

Width: 5,52 m.

 

Capacity: 440 persons.

 

The world's largest lifeboat, offering a roomier interior and a comfort level far above the present industry standard.

 

The world's first double-decker lifeboat, equipped with two entrances on each deck for quicker and easier boarding.

 

Accompanied by a new all-enclosed davit with a sleek and elegant design, which enhances the ship's overall appearance and reduces the need for davit maintenance.