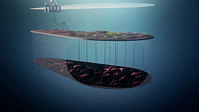 Solution Seeker, a Norwegian tech start-up, has had a breakthrough in the technical development of its artificial intelligence for real time oil and gas production optimisation. After several years of research on machine learning algorithms running on oil and gas production data, Solution Seeker has developed a hierarchical neural network model that significantly improves the predictive power for real time production optimisation. The model leverages the power of neural network learning algorithms combined with domain knowledge in the form of first principle physics and production system logic.
"Traditional, out-of-the-box machine learning algorithms are not sufficient for the oil production optimisation problem; the dynamics of producing oilfields are changing both with time and control settings, making it a highly challenging problem to predict optimal operational decisions. Furthermore, data may be both sparse and highly uncertain. We concluded early on that we had to develop our own purpose made models, and we are very pleased to announce that we have successfully developed models with the predictive capabilities required for real time production optimisation," says Bjarne Grimstad, CTO at Solution Seeker.
The neural network takes further advantage of Solution Seeker's proprietary algorithms for data analysis, which automatically extract and prepare suitable training data from the production data history. New training data is generated in real time as the system is operated, and the neural network model learns to adapt to the changing operational conditions with minimal human intervention.
"This is a significant breakthrough and completes our integrated artificial intelligence for real time production optimisation. We are looking forward to bringing the power of AI to our clients – it's an AI for the production engineer to leverage!" adds Vidar Gunnerud, the company's Founder and CEO.
The learning algorithms will first be deployed at ENGIE E&P's Gjøa field and Wintershall's Vega field early next year.
The full stack AI deploys a three-step Solution Seeker proprietary technology pipeline, from data analytics to machine learning to optimisation. The data analytics algorithms perform automatic pattern recognition, classification, statistical analysis and compression of thousands of live data streams. The learning algorithm then identifies field behaviour and relations, and enables estimation of parameters, correlations and quantification of uncertainty before automatically generating predictive models while continuously learning from new production data. Finally, Solution Seeker's proprietary optimisation algorithm provides a framework for scalable optimisation on the predictive, stochastic models.
The AI makes use of the very best available technologies, such as Google's TensorFlow for machine learning, and is powered by cloud computing technologies to achieve reliability and performance.