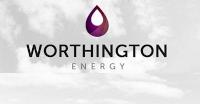 Worthington Energy, Inc. provides additional information on the existing assets currently in place on the Barr lease acquired from American Dynamic Resources, Inc. (ADR).
Worthington Energy, Inc. Chairman and CEO, Mr. Charles F. Volk, stated, "Worthington acquired a fully operational, working oil field including equipment, facilities and infrastructure, plus the proven intellectual property which will allow us to extract the heavy oil that was previously considered economically unviable to produce."
"There are 33 wells currently drilled on only 20 of the 320 available acres on the lease," stated Worthington Energy President and COO, Mr. Charlie Adams. "Each well already has an EcoLift Air Lift system in place.