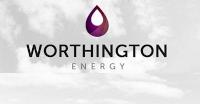 Worthington Energy, Inc., announces that the Company's collaborative efforts with American Dynamic Resources, Inc. (ADR) will target the Heavy Oil deposits in Southeast Kansas and Western Missouri.
As initially reported on March 12, 2014, Worthington entered into a Definitive Agreement to acquire the oil and gas assets of ADR and Heavy Oil Technology and Intellectual Property from ADR President and CEO, Mr. Charles Adams.
As part of that acquisition, Worthington will utilize the Levia Oil Recovery Process developed by ADR to begin recovering the heavy oil reserves in Southeast Kansas and Western Missouri. These reserves are estimated between several hundred million to 75 billion barrels of oil.