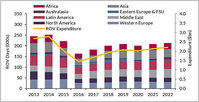 The work-class ROV (WROV) market is driven by drill-support, field construction and IRM activities offshore. The results from the latest analysis by Westwood Global Energy show that the market is starting to emerge from a cyclical downturn that has seen activity fall 36% and expenditure nearly halved.
Intense competition amid lower activity levels has depressed pricing, however, 2016 appears to have marked the bottom of the market and some recovery is now evident. Renewed project-sanctioning activity such as Cheviot in the UK and Mad Dog Phase 2 in the USA points to a more positive future for WROV demand. Coupled with the large global installed base of infrastructure, which will ensure that WROV's for IMR activity remain essential, the ROV market is now expected to see a positive trajectory, highlighted in the World ROV Operations Market Forecast 2018-2022.
Key Conclusions:
ROV Expenditure will total over $10bn with a 4% CAGR expected as operators begin to sanction more projects.
In total, there will be demand of 1,030,659 days for WROV's, averaging over 200,000 a year and growing at a 1% CAGR.