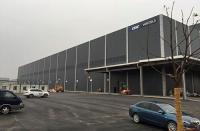 CSSC Wärtsilä Engine Co Ltd (CWEC), the joint venture company formed between Wärtsilä and China State Shipbuilding Corporation (CSSC), has formally opened its new production facilities located at Lingang, Shanghai. The opening ceremony took place on 9 January, and was attended by top executives from both Wärtsilä and CSSC.
The new 20,000 m2 production plant is the first in China capable of locally producing large-bore, medium speed diesel and dual-fuel (DF) engines. The plant will also manufacture medium-bore, medium speed diesel and DF engines. Wärtsilä 26, Wärtsilä 32, Wärtsilä 34DF, Wärtsilä 46F and Wärtsilä 46DF engines will be produced at the factory, which has a planned production capacity of 180 engines per year. CWEC has already booked orders for more than 70 engines and is focused on the cruise, ferry, LNG carrier, offshore, special vessel, and large container ship markets, all of which are strategic growth markets for the Chinese shipbuilding sector.
"Being close to our customers in order to serve them better is central to Wärtsilä's global strategy. We are, therefore, extremely pleased to officially open this modern production facility, the first in China capable of producing DF engines, which will serve China's shipbuilding industry with high quality, technologically advanced Wärtsilä marine engines. It is an honour to be sharing this day with our joint venture partners, CSSC, one of China's most modern industrial corporations. Together, we are supporting China's shipping industry's move into the age of LNG fuel," comments Wärtsilä's President & CEO, Jaakko Eskola at the opening ceremony.
"This is an important day for China's shipbuilding sector as we now have local availability of both medium and large-bore Wärtsilä diesel and dual-fuel engines. Wärtsilä's extraordinary technological accomplishments and global reputation have been built on its proud history spanning more than 180 years. With our two companies now standing shoulder to shoulder behind this joint venture, we can anticipate great things for the future," says Mr Wu Qiang, President of CSSC.
Three separate agreements were signed during the day's events. The first was a three party strategic cooperation agreement between CWEC, Wärtsilä, and Hudong-Zhonghua Shipbuilding Group, a subsidiary of CSSC. The three companies will work closely to create more win-win cooperation. This will include, for example, working together on new build vessel project opportunities for engines and other marine equipment, and jointly optimising vessel concepts in order to improve efficiency and environmental sustainability, while creating added customer value.
In November 2016, a similar agreement was signed with Shanghai Waigaoqiao Shipbuilding (SWS), also a part of CSSC. Wärtsilä has successfully cooperated for a number of years with SWS, and this agreement is expected to build on this relationship. SWS is currently the largest commercial shipyard in China.
The other agreements signed were Letters of Intent with ENN (Zhoushan) LNG Co (ENN) and Ningbo Xinle Shipbuilding Group (Xinle). The LOI with ENN is for the supply of Wärtsilä 34DF dual-fuel main engines for an 8000 m3 LNG bunkering vessel. This represents a landmark, first such project in China for international shipping purposes. There is an option for a second such vessel. The LOI with Xinle is for Wärtsilä 34DF dual-fuel engines for two 7500 DWT cement vessels.
The ground-breaking ceremony for the factory took place in October, 2015, and already the first Wärtsilä engine has been delivered to the Shanghai Waigaoqia Shipyard (SWS). Currently 80 people are employed at the plant, and this number is expected to rise to 130 during 2017.
CWEC's production process strictly follows Wärtsilä's leading industry standards. Of particular importance to the company's customers is Wärtsilä's dual-fuel engine technology, which by being able to use liquefied natural gas (LNG) as a marine fuel, enables compliance with the IMO's TIER III environmental legislation.
The joint venture was established in July, 2014 with CSSC holding 51% of the shares and Wärtsilä the remaining 49%.