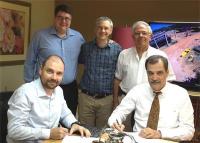 A new, high quality, pushboat used to push barges convoys along the Paraguay River, will be powered by a Wärtsilä integrated propulsion solution. The vessel is being built at the "Astillero la Barca del Pescador" (Shipyard SA) yard in Paraguay on behalf of Naviera Yeruti, a Paraguayan company with extensive barge construction and vessel operating interests. This new vessel will be the company's first pushboat and it is scheduled to be delivered in the second quarter of 2015. The contract with Shipyard SA was signed in December 2013 and Wärtsilä's equipment will be delivered in the third quarter of 2014.
The integrated Wärtsilä engine and propulsion system includes three 8-cylinder in-line Wärtsilä 20 engines, three fixed pitch propellers, three gearboxes, three shaft lines including the shafting, seals and bearings, and the propulsion control system. Paraguay Parana River system is extensively used to transport goods, notably iron ore, soya beans and soya oil, to the coast.
"The primary target of the owners was to ensure a high level of reliability in its operations. Wärtsilä's reputation for high quality integrated propulsion solutions was, therefore, an important factor in the award of this contract," says Joe Amyot, Area Sales Director, Wärtsilä Ship Power.