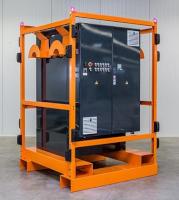 Wärtsilä has announced the launch of its new Jovyload Concept, a portfolio of modularised load resistors. The modular kit format allows customers to select the load resistor according to the precise needs of the required application. The flexible concept offers a wide selection of components, various mobile and stationary designs, and a broad range of control units to choose from. Load resistors are important for testing generators, uninterruptible power supplies (UPS), and other sources of electrical power. In particular, industrial segments where generators are commonly used, including the marine and energy sectors, are expected to benefit from the advantages offered by the Jovyload Concept. The new modular offering will be available for either sale or rent.
The concept has been developed at Wärtsilä Jovyatlas Euroatlas in Germany and features a number of customer benefits. These include a more compact design, as well as lower exhaust air temperatures, a very low noise level of <70 dB(A) at a distance of three metres, and a vertical air outlet that eliminates the need for safety distances. Furthermore, the overall construction is extremely robust making it suitable for even more challenging environments.
"The Wärtsilä Jovyload Concept represents significant development in this field, and is a valuable addition to Wärtsilä's already extensive range of products and systems. The load bank is modular in nature and a cost effective and flexible product assembled from a range of standard components, options and accessories. Here, the customer has the freedom to select either a standard unit or one tailored to meet a specific application requirement. An important consideration is that not only is the product very cost competitive but it also benefits from years of design experience and incorporates many other useful features essential for safe and efficient operation," says Peter Rogers, Director, Power Conversion, Electrical and Automation, Wärtsilä Marine Solutions.
For generator tests, the new Wärtsilä Jovyload Concept provides a special load bank series from 100 kW to 500 kW in a very compact and easily transportable form. If more than 500 kW power is needed, a combination of several load banks with a single common control unit is achievable via a master-slave connection. The use of NiCr 8020, a nickel chromium alloy with very high heat-resisting characteristics, ensures that the resistor valves of the Wärtsilä Jovyload Concept have a high level of precision.