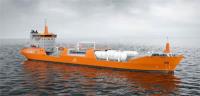 Wärtsilä has launched its SK 5054 MkII ship design, a further development and upgraded version of the successful SK 5054 design. The launch of the new chemical and oil products tanker design takes place at the Wärtsilä stand in Hall A4, Booth 305 at the SMM conference and exhibition in Hamburg, Germany.
The proven Wärtsilä SK 5054 ship design has been used for more than 60 vessels already built and in operation. The SK 5054 MkII version builds upon this strong foundation to offer a reliable and environmentally sound ship design that incorporates the latest Wärtsilä technology applied to its broad offering of solutions. In particular, the new design facilitates the use of gas as a marine fuel, thereby making it especially applicable to ships that will operate within emission control areas (ECAs).
This new design offers a 12% increase in energy efficiency over the original SK 5054 design. Other notable features include lower operational costs, an efficient cargo handling arrangement with minimised ballast capacity, an emphasis on ease of maintenance, and a strong focus on crew safety. The design also implements Wärtsilä's state-of-the-art LNG fuel technology, for which the company's extensive in-house knowledge concerning gas solutions has been utilised in the development work.