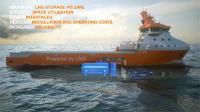 The new Wärtsilä LNGPac, the upgraded version of the company's successful LNG fuel handling system, has been granted an AIP (Approval in Principle) Certificate from the classification society DNV GL. The certificate will be presented at the Wärtsilä stand in Hall A4, Booth 305 at the SMM conference and exhibition in Hamburg, Germany today, 9 September.
The AIP Certificate covers Wärtsilä's innovative improvements to the original LNGPac. The new solution has removed the heating media skid and its pumps, and includes an improvement to the Wärtsilä Cold Recovery solution. The certificate is based on technical material and safety analyses, and includes documentation concerning normal operation of the system and a presentation of risk scenarios. In effect it means that the system is judged to be safe and reliable and that it will be approved by classes in actual projects.
"This is an important step in making this new feature of the Wärtsilä LNGPac available to the marine market, and represents an expected verification of the technical aspects that have gone into the development of this system," says Jaakko Eskola, Senior Executive Vice President & President, Ship Power, Wärtsilä Corporation.