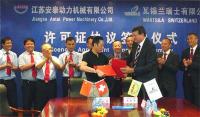 A licence agreement covering the manufacture and sales of Wärtsilä 2-stroke engines has been signed between Wärtsilä Switzerland Ltd and China based Jangsu Antai Power Machinery Co. Ltd. (JAD). JAD is the former large horse-power division of Wuxi Diesel Engine Plant.
Under the terms of this agreement, JAD will be able to manufacture and sell the entire portfolio of Wärtsilä 2-stroke engines. Initially, JAD will focus on small and mid-sized engines up to and including the Wärtsilä X-72 bore engines. It is expected that the manufacturing capacity of JAD will make a significant contribution to the delivery of Wärtsilä low-speed marine engines to the large and still growing Chinese shipbuilding industry.
"We are delighted to establish this co-operation with one of China's major engine producers. Jangsu Antai Power has a well-deserved reputation for quality, and together we can serve our customers in China with faster delivery of Wärtsilä engines featuring the very latest technology," says Martin Wernli, Vice President, 2-stroke, Wärtsilä Ship Power and Managing Director of Wärtsilä in Switzerland.