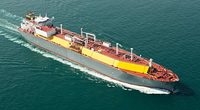 The technology group Wärtsilä is expanding its co-operation with the Athens based ship management company TMS Cardiff Gas Ltd. Under the recently signed maintenance agreement, Wärtsilä ensures the maintenance predictability of the operation of four TFDE LNG Carriers in the TMS Cardiff Gas fleet. Eniram's data collection platform and advanced data analytics helps TMS Cardiff Gas to achieve optimal fleet operations, resulting in reduced fuel costs and emissions.
The maintenance agreement, signed in December 2017, advances the performance monitoring of TMS Cardiff Gas' vessels. The agreement is an expansion to the earlier Technical Management Agreement signed between Wärtsilä and TMS Cardiff Gas in 2014. With the new agreement, the scope of Wärtsilä's services include, among others, Eniram's data collection platform and advanced data analytics that enables TMS Cardiff Gas to save costs and maximise overall profitability while cutting its emissions.
Wärtsilä's Dynamic Maintenance planning, in combination with Eniram's Vessel digital performance management system, provides TMS Cardiff Gas with a comprehensive view of each vessel's performance, efficiency, and improvement possibilities.
Wärtsilä is engaged in the maintenance and optimisation of vessels' engines, allowing the customer to focus on its core business. Wärtsilä provides all necessary spare parts for the maintenance of the vessels as well as field service resources for scheduled maintenance that has been planned according to the actual running hours of the engines. Remote support service guarantees that the vessels' crews have access to Wärtsilä's support team around the clock, which facilitates troubleshooting on the spot and also minimises service visits on board.
"Our vision is to be one of the world's leading LNG and LPG operators with the highest standards of excellence in terms of performance, reliability, and safety. The maintenance and upgrade service needs of the tri-fuel Main Generator Engines on our LNG Carriers are technically advanced and require detailed planning with a professional partner to ensure the engines' reliable performance and the vessels' operability. Through our five-year partnership with Wärtsilä and Eniram, we are confident that our fleet will continue to be our customers' premium choice," says George Kourelis, General Manager of TMS Cardiff Gas.
"We are delighted to expand our partnership with TMS Cardiff Gas. Wärtsilä's solid experience in gas technologies, combined with Eniram's expertise in digital performance management solutions, allows TMS Cardiff Gas to maximise the efficiency of its engines and optimise its operations," says Yiannis Christopoulos, Director Services Unit Greece & Cyprus.
TMS Cardiff Gas, established in 2011, is an operator and manager, with a fleet of ten modern Gas Carriers (six LNG Carriers and four VLGCs). TMS Cardiff Gas is part of TMS group that manages more than 120 ships across the LNG, LPG, Oil/Chemicals, Dry Bulk and Offshore sectors.