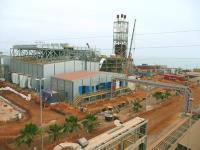 Wärtsilä will supply an extension to a 53 MW Flexicycle power plant currently under construction near Dakar, Senegal. The extension will comprise two Wärtsilä 46 engines running on heavy fuel oil, with a combined capacity of 34 MW.
Both phases of the project will be fast-track delivered on a turn-key basis. The contract has been issued by ContourGlobal, an international power generation company with approximately 4000 MW of capacity around the world. The 53 MW first phase is scheduled to be in operation in May 2016, and phase two in October 2016.
The new power plant will provide a 10 percent increase to Senegal's current 860 MW total electricity generation capacity.