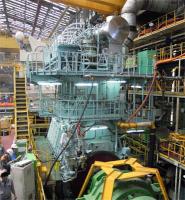 Both the Wärtsilä X72 and the Wärtsilä X62 two-stroke engines have recently successfully passed important tests that verify various performance criteria. The Type Approval Test (TAT) for the Wärtsilä X72 took place at the premises of Wärtsilä's licensee, Doosan Engine Co. Ltd, in Changwon, South Korea. This was followed by a successful Sea Trial carried out by Dalian Shipbuilding Industry Corporation (DSIC).
In passing the TAT, the engine is verified as having fulfilled all classification society requirements, and is therefore fully introduced to the market. An important feature of the testing was meeting the SOLAS (Safety of Life at Sea) standards. With a single engine powering the propeller, the engine must be capable of continuous operation under all conditions.
Also the first Wärtsilä X62 engine has successfully passed its Factory Acceptance Test (FAT). This milestone verifies that the engine fulfils the design criteria for performance and functioning, and that it has been accepted by both the customer, Kyklades Maritime Corporation, as well as by the classification society Det Norske Veritas (DNV). The tests were carried out at the Hyundai Heavy Industries Engine and Machinery Division (HHI - EMD) factory in South Korea, where a series of four engines is being produced under license from Wärtsilä for Kyklades. The engines have been ordered to power four 115k Aframax Product Carriers being built by the HHI Gunsan shipyard.