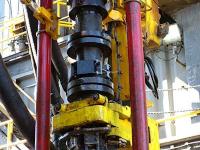 XACT Downhole Telemetry Inc., with offices in Houston and Calgary, ended a landmark year that included six deepwater Gulf of Mexico deployments, delivering an industry first, by providing real-time downhole data during a deepwater completion installation with BP.
BP successfully accessed real-time downhole data throughout the well's completion, using XACT's acoustic telemetry network, which was seamlessly integrated into the operation.
Six downhole measurement nodes from XACT spanned the 22,700-foot well, enabling BP to monitor critical parameters including downhole weight on the crossover tool, and pressures and temperatures during the well's completion.
"XACT is thankful to BP for once again giving our team the opportunity to demonstrate the value of our Network," says Jason Roe, President and CEO of XACT. "The success of this application illustrates the ability of the XACT Acoustic Telemetry Network to provide critical downhole parameters during complex operations."
XACT has worked with BP's Upstream Technology group to further develop and deploy the acoustic telemetry network. BP has provided investment funding to XACT through BP Ventures.
"BP partners with XACT to help develop technology that enhances well construction and completions," said Issam Dairanieh, managing director at BP Ventures. "We view this as a promising digital technology and are pleased to support its deployment and wider industry acceptance."
XACT achieved multiple industry and application firsts in 2015, including transmitting real-time data during a liner installation, during cementing operations and while tripping. XACT delivered these operations in the Gulf of Mexico with major operators and demonstrated the value of real-time applied acoustics to enable decisions for lower cost wells.