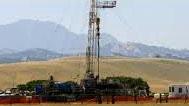 Xstate Resources Limited has signed a Heads of Agreement with Northern Gulf Petroleum Pte Ltd (NGP) to drill the Alvares and Dempsey prospects in the Sacramento Basin of California.
NGP will fund the drilling of both wells and earn a 50% interest in each prospect from a Joint Venture involving Xstate and ASX listed Australian Oil Company Limited and private interests.
The Alvares and Dempsey prospects have gross unrisked best estimate recoverable prospective resources of 2.4 TCF and 1 TCF respectively and drilling is planned for mid-2015.