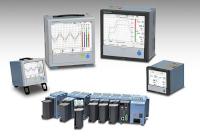 Yokogawa Electric Corporation has announced that it will introduce release 4 of the SMARTDAC+® GX series panel-mount type paperless recorder, GP series portable paperless recorder, and GM series data acquisition system on May 19.
With this latest release, new modules are provided that expand the range of applications possible with SMARTDAC+ systems and improve user convenience. New functions include sampling intervals as short as 1 millisecond and the control and monitoring of up to 20 loops.
Recorders and data acquisition systems (data loggers) are used on production lines and at product development facilities in a variety of industries to acquire, display, and record data on temperature, voltage, current, flow rate, pressure, and other variables. Yokogawa offers a wide range of such products, and is one of the world's top manufacturers of recorders. Since releasing the SMARTDAC+ data acquisition and control system in 2012, Yokogawa has continued to strengthen, with the introduction of a variety of recorders and data acquisition devices that meet market needs and comply with industry-specific requirements and standards.
With this release, Yokogawa provides new modules with strengthened functions that meet customer needs for the acquisition and analysis of detailed data from evaluation tests. These modules decrease the cost of introducing a control application by eliminating the need for the purchase of additional equipment.
SMARTDAC+ stands for smart data acquisition and control. SMARTDAC+ offers input and output modules for a variety of signal sources and widely supports manufacturing processes and product performance evaluation testing.