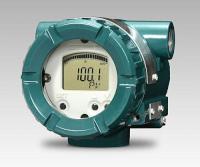 Yokogawa Electric Corporation has announced the release of its new YTA610 temperature transmitter. Although the YTA610 is a mid-range model, it has the same dual-compartment housing for the transmitter terminal block and electronics that is used with the company's high-end models, ensuring excellent environmental resistance.
The release of the YTA610 temperature transmitter completes Yokogawa's revamp of the YTA series, with the YTA610 and the YTA710 (a high-end model that was released in May of this year) succeeding the YTA110, the YTA310, and the YTA320, with the aim of further improving this innovative and reliable market leading range.
Temperature transmitters are used in oil and gas, petrochemical, chemicals, iron and steel, pulp and paper, electric power, water treatment and other types of plants, to convert signals from thermocouples, RTDs, and other types of temperature sensors and relay them to the plant monitoring and control system. The YTA series was launched in 1998, and the high reliability and excellent environmental resistance of these transmitters has made them a global top seller.
To begin its revamp of the YTA series, Yokogawa released the YTA710 in May. While featuring the same high environmental resistance and reliability of the other models in the YTA series, this high-end model enables higher measurement accuracy and comes with a number of new functions that meet our customers' latest needs. The YTA610 a cost-effective mid-range model in this product series.