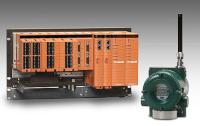 Yokogawa Electric Corporation has announced that it will release the ProSafe-RS® SIL2 wireless gas detection system in September. Established by the International Electrotechnical Commission (IEC), a safety integrity level (SIL) indicates the relative level of risk provided by a safety function. SILs 1 through 4 are defined by IEC 61508. At SIL2, the risk factor for a plant where safety measures are not in place is in a range between 1/100 and 1/1,000. At SIL3, the risk factor is in a range between 1/1,000 and 1/10,000.
The ProSafe-RS SIL2 wireless gas detection system will consist of a newly enhanced version of the Yokogawa ProSafe-RS SIL3 safety instrumented system (R4.03.10), Yokogawa field wireless network devices, annunciator panels, and subsidiary of the German company Drägerwerk AG & Co., GasSecure, wireless gas detectors GS01 or the GS01-EA which is equipped with an extension antenna.
For this system, Yokogawa will establish a total solution that will include both consulting and engineering.
In energy and basic materials industries such as oil & gas, petrochemicals and chemicals, a safety instrumented system is employed to safely initiate an emergency plant shutdown when a critical failure is detected, and to initiate the operation of facilities that can extinguish or prevent the spread of a fire.
A field wireless system consists of field devices that are able to communicate wirelessly with a monitoring and control system. Wireless devices have a number of advantages such as allowing installation in difficult-to-access locations and the reduction of installation costs, and they are increasingly seen as essential elements in plant safety solutions. This is a particularly important consideration with gas detection systems, as operation can easily be impacted by factors such as installation location and ambient conditions. And even after system installation, ongoing efforts to optimise its overall configuration may necessitate occasional changes in the location and number of detection devices. The use of wireless technology eliminates the need to worry about wiring and thus greatly facilitates the process of moving and/or installing additional detection devices.
To achieve SIL2 level risk reduction when using wireless gas detectors with a safety instrumented system, communication protocols that comply with the functional safety requirements specified in the IEC 61508 international standard are required. A standard for the functional safety of electrical/electronic/programmable safety-related systems. To meet this need, Yokogawa will provide a SIL2 wireless gas detection system based on a new version of the ProSafe-RS safety instrumented system that will link to field devices using an IEC 61508 compliant communication protocol.
The ProSafe-RS SIL2 wireless gas detection system will consist of a new version of the ProSafe-RS safety instrumented system, R4.03.10, that will be enhanced to add support for an IEC 61508 compliant safety communication technology used in distributed automation; annunciator panels; ISA100 Wireless compliant field wireless devices; and GasSecure GS01 or GS01-EA wireless gas detectors, which are the only devices of this type in the industry that achieve SIL2 risk reduction. The ISA100 Wireless network protocol is based on the ISA100.11a wireless communication standard for industrial automation that was developed by the International Society of Automation (ISA), and the applications necessary for its implementation. This was approved as the IEC 62734 international standard in October 2014.