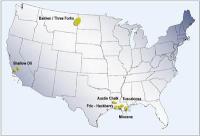 Yuma Energy, Inc. has successfully completed its Talbot 23-1 well and provided an operational update on its properties.
Amazon 3-D Project, Talbot 23-1 - Jefferson Davis Parish, Louisiana. On June 23, 2015, the Talbot 23-1 well (45% working interest) tested at an initial gross production (IP) rate of approximately 7.0 MMcf/d and 180 Bbl/d of 55 degree API condensate on a 13/64th choke with flowing tubing pressures of approximately 9,000 pounds.
The well has subsequently averaged approximately 6.9 MMcf/d and 180 Bbl/d over the following 13 days of production on the same 13/64th choke. The Talbot 23-1 was perforated in a lower portion of the main Hackberry sand from 11,744 feet to 11,748 feet (MD) and has additional up-hole Hackberry sands in the main Hackberry section as well as four additional Marg-Tex sands with calculated pay behind pipe. On a net basis to the Company, the well has added approximately 2.2 MMcf/d and 58 Bbl/d (431 BOE/d net) over the same 13 day period.