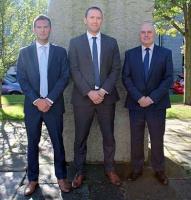 An Aberdeen-based well engineering and project management company has secured a significant contract to provide a third full well management service for an operator within the last 12 months.
Zenith Energy, which operates and manages projects on and offshore in the UK and internationally, has been awarded its additional contract with Europa Oil and Gas following its success with the onshore exploration well, Kiln Lane-1, last year.
Under the new contract, which is worth a six-figure sum, Zenith will be responsible for the provision of well construction and full project management services on Europa's upcoming Holmwood-1 exploration well on the PEDL143 licence in southern England.
The specialist well firm, which is located on Aberdeen's Bon-Accord Square, will execute all well planning, third party contracting, rig contracting, well test planning and operations for the onshore well. Recently securing ISO 14001:2015, Zenith is the first well management firm to gain accreditation of the new ISO standard and will be utilising this Environment Management System on the Holmwood-1 project.
PEDL143 is located in the Weald Basin in South-east England where 14 oil and gas fields have been found over the last 30 years, resulting in the discovery of an estimated 50 million barrels.
Drilling operations on the Holmwood-1 are anticipated to commence in H1 of 2017, with Zenith planning to use its wealth of engineering experience, as well as knowledge from its previous Europa contract, to complete on time and within budget.
Managing director of Zenith Energy, Martin Booth, says, "Over the past two years, Zenith Energy has developed a strong relationship with Europa, having successfully drilled and completed their Kiln Lane well early last year, which was a first project management job for us. Since then, we have built on this relationship and will again utilise our experienced well engineering team, along with our familiarity and knowledge of Europa, to demonstrate our ability to deliver superior performance."
CEO of Europa Oil and Gas, Hugh Mackay, says, "We have contracted Zenith for a second time to help us achieve the Holmwood well objectives for what is an extremely important well for Europa. The Holmwood prospect has potential mean gross unrisked prospective resources of 5.5mmbo and is one of the largest undrilled conventional prospects onshore UK. We look forward to working again with the experienced Zenith team."