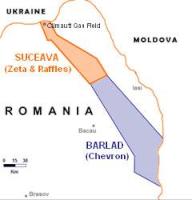 Zeta Petroleum provides an update on the Jimbolia-100 well ('Jimbolia-100' or 'the Well'), an appraisal well on the 39% owned Jimbolia oil concession in Romania, which is operated and 100% funded by NIS Petrol SRL (a wholly owned subsidiary of NIS Gazprom Neft).
On 19 August 2013, the Company announced that both oil and gas flowed naturally to surface during production testing of the second interval of the Jimbolia-100 well and that the Operator would be applying standard conventional stimulation methods in an effort to improve the Well flow rates. The Operator has recently informed Zeta that following the stimulation operations, the second interval did not flow oil to surface, only producing gas containing high levels of CO2.
The Operator is now preparing to test the two remaining intervals: the third interval lies between 2,533-2,536m and the fourth interval at 2,522-2,526m. Further information regarding the testing of the Well will be provided to the market as and when the Company is updated by the Operator.