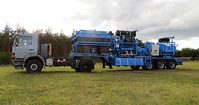 ZF's automatic powershift transmission 8 TX has gone into volume production and was recently deployed for the first time in Eastern Europe. Since early 2017, the transmission has been installed in high-pressure mobile pump systems that are used in an oil field near Poltava in the Ukraine. Developed by ZF especially for tough deployments in the oil and gas drilling industry, the 8 TX has been operating brilliantly under harsh working conditions and temperatures ranging broadly between minus 40 and plus 40 degrees Celsius. Especially when ramping up the entire pump system, the 8 TX stands out due to its precision and reliability, impressing oil field operator TACROM.
Since January 2017, the Romanian oilfield service company TACROM Services s.r.l. has completed a total of 40 "jobs" in a gas field near the Ukrainian city of Poltava. Hydraulic pressure helps to pump the liquid into the well bore, to increase the hydrocarbon extraction. This special process makes the oil deposits more profitable. It is critical in these types of pumping jobs for the pressure build-up or "system ramp-up" to be as constant as possible. The 8 TX automatic power-shift transmission shines in this environment, in particular, because its gear ratios enable the pump system to convert its engine power very constantly into hydraulic pressure. "We prefer to rely on the 8 TX," explains Ralph Koskamp from TACROM. "A pump fitted with the 8 TX offers major advantages, particularly when ramping up the system. The biggest one being that we can operate the pump at any time under any pressure and, if needed, shift it to the next gear without having to shut down the equipment and put the transmission in lockup. Pumps equipped with this ZF transmission operate considerably more reliably under the tough conditions that high pressure pumping work involves. The ZF 8 TX shifts particularly smoothly to the next gear without reducing pressure and rate, which is a key factor in its reliability."
GOES GmbH develops and fully manufactures the mobile pumps that TACROM uses for its pressure pumping services. "The biggest challenge when designing and constructing a pump unit is ensuring functionality, user-friendliness and reliability. Due to the extreme conditions in oil and gas fields, we rely on robust and reliable equipment, which includes the 8 TX," says Volker Hein from GOES GmbH. The reliable 8 TX transmission has yet another advantage: GOES is also responsible for maintaining and servicing this equipment, which is installed on trucks or trailers. Supplying spare parts for equipment located in a remote oil field is expensive and time-consuming. That's why the ZF transmissions – operated maintenance-free since January – were also attractive from an economic standpoint.
"We are very proud of the highly successful European premiere of our 8 TX," adds Ralf Boss, who is responsible for the Special Vehicle Systems product line at ZF Friedrichshafen AG. "It confirms the performance of our powershift transmission which has already been deployed in the oil and gas industry in North America." Installed on trailers, the 8 TX transmission has an engine output of 2,500 hp at 1,900 rpm. The maximum output of the 8 TX is 2,600 hp at 1,900 rpm.