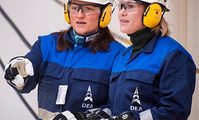 The Norwegian Ministry of Petroleum and Energy has awarded five new licenses to DEA in this year's APA round. DEA's Exploration Manager Svend Erik Pettersson is pleased with the results: "We got the areas that we ranked as most interesting. Although the areas are mature, we see great potential. Throughout our 40 years on the Norwegian Continental Shelf (NCS), we have built knowledge and expertise, and that, in combination with technology, gives us the capability to seek out new possibilities", he says.
DEA has been involved in some of the most important recent discoveries on the NCS, and has grown into a key player in the industry. Hans-Hermann Andreae, Managing Director of DEA in Norway believes the awarded areas will strengthen the DEA license portfolio further. He says: "We are pleased to see that the Norwegian government acknowledge our commitment to further search for and develop new business on the NCS. With the new areas, DEA will continue to grow in line with our overall business strategy."
DEA has a solid and promising license portfolio in Norway consisting of assets in all main phases, in every region of the Norwegian Continental Shelf (NCS). At present, DEA has shares in 54 licenses on the NCS.
Awards in Predefined Areas is the annual licensing round for award of licences in mature areas on the Norwegian Continental Shelf, with known geology and good infrastructure. The APA system was established in 2003. This year, the Norwegian Ministry of Petroleum and Energy is offering shares in 75 new production licences.
The following licences were awarded to DEA:
North Sea:
PL 929, DEA share 20%
PL 153C, DEA share 8%
Norwegian Sea:
PL 832B, DEA share 15%
PL 937, DEA share 30%
Barents Sea:
PL 533B, DEA share 30%